Venue
The ZEUS Workshop will be held in the Böcklsaal of TU Wien, Vienna, Austria. TU Wien is located at Karlsplatz, which is connected to numerous metro, bus, and tram lines.
For 200 years, TU Wien has been a place of research, teaching and learning in the service of progress. TU Wien is among the most successful technical universities in Europe and is Austria's largest research and educational institution in the area of technical sciences.
Böcklsaal
Karlsplatz 13
1040 Vienna, Austria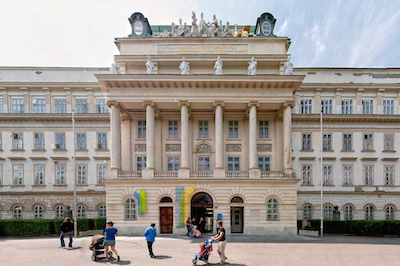 Travel
Arrival by plane
Vienna's Airport (VIE) is located southeast of the city and is served by all major airlines. On the VIE website you can find flight information, an airport map, as well as information of transportation into the city center.
From Vienna Airport to the city center
Airport Train
The City Airport Train (CAT) links the airport to subway station Wien Mitte where you can change to subway lines U3 and U4, as well as to tram and buses (see below for information on the public transport in Vienna). When using the CAT service you can already check in at the train station Wien Mitte for certain flights when departing from Vienna. It costs about €11 for a one-way and €17 for a return trip. Have a look at the timetable. Note that tickets for underground, trams, or local buses are not included in this price.
Standard Train
A standard train connection (Schnellbahn S7) between the airport and Wien Mitte is also available (tickets €4.80 one-way, including underground and bus in Vienna). Be sure to buy "2 zones" from the vending machine. If you buy a separate ticket for Vienna, you need only "1 zone". Have a look at the timetable.
Bus
Vienna AirportLines offer buses to Schwedenplatz (subway lines U1 and U4) and Wien Westbahnhof (westbound train station, connected to subway lines U3 and U6) and Wien Meidling (southbound train station). Tickets cost €8 (single) to €13 (return). Tickets for underground, trams, or local buses are not included in this price.
Taxi
The Vienna's Airport (VIE) is located some 15 km (south)east of Vienna. A taxi to the city center costs between € 30 and € 40.
---
Arrival by train
For train connections to Vienna, consult the time table of the Austrian federal railway company (ÖBB). There are direct services to many central European cities.
---
Vienna Public Transport
A public transport ticket is valid for any subway, tram, or bus operated by Wiener Linien and trains operated by ÖBB inside Vienna (Zone 100 or Kernzone).
You can reach the ZEUS Workshop 2016 using one of the following lines:
Subway lines U1, U2, or U4 to Karlsplatz
Tram lines 1, 62, and Wiener Lokalbahn (WLB) to Wien Resselgasse
Bus line 4A to Karlsplatz (Resselpark)
Accommodation
There is a huge number of hotels in the area, including the following ones.
Best Western Premier Kaiserhof Wien
Frankenberggasse 10
1040 Vienna
http://www.hotel-kaiserhof.at/wien/default-de.html
wien@hotel-kaiserhof.at
+43 1 505 17 01
Erzherzog Rainer
Wiedner Hauptstrasse 27-29
1040 Vienna
https://www.schick-hotels.com/hotel-erzherzog-rainer/index.html
rainer@schick-hotels.com
+43 1 22 111
Hotel Johann Strauss
Favoritenstraße 12
1040 Vienna
http://www.kremslehnerhotels.at/de/hotel-johann-strauss-wien/
js@kremslehnerhotels.at
+43 1 505 76 24
Clima Cityhotel
Theresianumgasse 21a
1040 Vienna
http://www.climacity-hotel.com/
reservierung@climacity-hotel.com
+43 1 505 16 96
Hotel-Pension SHERMIN
Rilkeplatz 7
1040 Vienna
http://www.shermin.at/
hotel@shermin.at
+43 1 586 618 30