More Information on our Location
Address
Vienna University of Technology
Insitute of Information Systems 184/1
Distributed System Group

Argentinierstrasse 8
A-1040 Wien, Austria
---
Technische Universität Wien
Institut für Informationssysteme 184/1
Arbeitsbereich für Verteilte Systeme

Argentinierstrasse 8
A-1040 Wien, Austria
---
Phone: +43 (1) 58801 18402
Fax: +43 (1) 58801 18491
Email: sek(at)infosys.tuwien.ac.at
Office hours: Mon-Thu 9:30-11:00
Wide Area Situation
We are located in the fourth district of Vienna, right next to the City in the greater area of Karlsplatz, near the famous Karlskirche.If you come from the airport, you can use the regular bus service between the airport and the City Air Terminal to get into Town. There is also a train service. Furthermore shuttle services and taxis are available. Further information please read here.
Public Transport
If you want to use Public Transport, try to get onto U-Bahn Lines U4, U2 (exit Karlsplatz).
Local Area Situation
A map that shows how to reach us.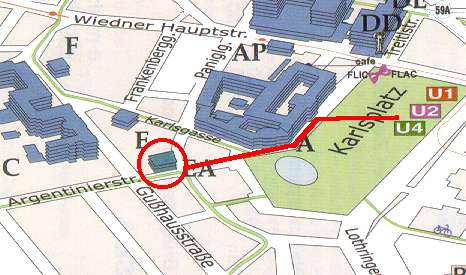 Here your can find a general plan of the TU-Wien